2022 Annual Retreat & Conference


JULY 08 - 12, 2022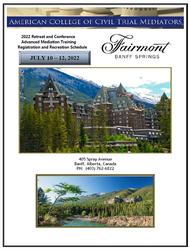 2022 Annual Retreat Travel Information
Fairmont Transportation Team Direct Number: 403-762-6895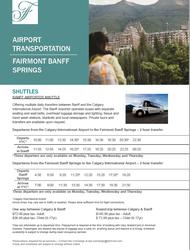 Please note that the Calgary Stampede will take place over the dates of JULY 8 - 17, 2022. This may impact travel and transit for arrival and departure plans to Banff.
Use ArriveCAN to enter Canada
You must use ArriveCAN to provide mandatory travel information before and after your entry into Canada. It only takes minutes to help keep each other safe.
Available for iOS, Android and web.
The mobile app is free and is available in English, French and Spanish (displayed in the language of your device). Download the latest version of ArriveCAN or click 'update' in your app store.
ArriveCAN is mandatory and free!
Disclaimer: Any information posted here is strictly for convenience and may not be the most updated travel restrictions. Please check with your airline carrier regarding specific travel requirements to enter and depart from Canada. Links below should take you to the most recent postings from the authorities listed.
US EMBASSY and CONSULATES in CANADA
COVID-19 Vaccinated Travellers Entering Canada
On this page
Exemptions for fully vaccinated travellers who meet specific conditions
Fully vaccinated travellers who arrived before 12:01 a.m. EDT on July 5, aren't eligible for these exemptions. If you returned to Canada before this time, you must complete your 14-day quarantine and a Day-8 test.
You may qualify for certain exemptions to quarantine and testing requirements if you:
are asymptomatic
meet all other entry requirements, including entering your information in ArriveCAN before arrival
Those who meet the requirements may be exempt from:
quarantine
hotel stopover (for air travellers)
day-8 testing requirement
Travel restrictions on who can enter Canada remain in place.
Foreign nationals (including U.S. citizens) coming to Canada for non-essential reasons will be turned away at the border.
Find out if you can enter Canada
Check if you qualify for the exemption
To be considered fully vaccinated, you must:
have received the full series of an accepted COVID-19 vaccine or a combination of accepted vaccines
have received your last dose at least 14 days prior to the day you enter Canada

Example: if your last dose was anytime on Thursday July 1st, then Thursday July 15th would be the first day that you meet the 14 day condition

upload your proof of vaccination in ArriveCAN
Accepted vaccines:
Pfizer-BioNTech COVID-19 vaccine
Moderna COVID-19 vaccine
AstraZeneca/COVISHIELD COVID-19 vaccine
Janssen (Johnson & Johnson) COVID-19 vaccine - single dose
Vaccines not currently accepted for fully vaccinated status in Canada:
Bharat Biotech (Covaxin, BBV152 A, B, C)
Cansino (Convidecia, Ad5-nCoV)
Gamalaya (Sputnik V, Gam-Covid-Vac)
Sinopharm (BBIBP-CorV, Sinopharm-Wuhan)
Sinovac (CoronaVac, PiCoVacc)
Vector Institute (EpiVacCorona)
Other
The list of accepted vaccines may expand in the future.
If you received your vaccines outside Canada, it's still accepted but proof of vaccination must be uploaded digitally in ArriveCAN and must only be in French or English, or certified translation into French or English.
Proof of vaccination
You must use ArriveCAN to enter your proof of vaccination, quarantine and travel information.
If you don't provide the required information in ArriveCAN before arriving at the border you won't be considered for the exemption, even if you meet all the other requirements.
Providing proof of your vaccination
In ArriveCAN, you must provide:
the details of your first dose (date, country and vaccine you received)
the details of your second dose if one was required (i.e., for Pfizer, Moderna, and AstraZeneca vaccines)
a photo or PDF file of the record of each dose of your vaccination, such as receipts, cards, or confirmations:

if you received two doses and they are both recorded on a single card or PDF, upload that same image or file for dose 1 and again for dose 2
file formats accepted: PDF, PNG, JPEG or JPG
maximum file size for upload: each image upload has a 2 MB size limit

preferred file format: if you received a PDF file of your vaccination record, upload the PDF rather than an image, since the PDF is clearer and easier to read
these must be in English, French, or a certified translation into English or French
Bring your original proof of vaccination with you while you travel.
Providing a certified translation if your proof is not in French or English
Use ArriveCAN - download the mobile app or sign in online
No exceptions for partially-vaccinated travellers
At this time, there are no exemptions from testing, hotel stopover or quarantine for travellers who haven't received the full series of a vaccine or a combination of vaccines accepted by the Government of Canada.
Troubleshooting proof of vaccination in ArriveCAN
If you used ArriveCAN before the vaccination feature was added on July 5, 2021, ArriveCAN is asking if you pre-booked a hotel.
RE-ENTRY from Canada to U.S.:
"All travelers to the U.S. must show proof of a negative COVID-19 test taken 1 day before departure (or proof of recovery) regardless of citizenship or vaccination status.
Travel requirements vary depending on where you're from and your vaccination status:
U.S. citizen / legal permanent resident
Proof of negative test taken 1 day before departure or proof of recovery from COVID-19

Attestation related to proof of negative test or recovery"
RAPID RESORT TEST - Testing Appointments and Information

Appointments in Advance of Departure for testing anywhere in Banff, Lake Louise, Calgary, Edmonton, or rural Alberta.

Summer Activities - Banff Springs